Cyprus death woman's family continue fight for justice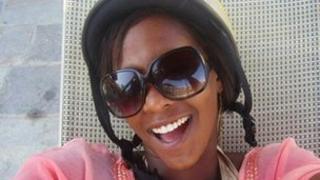 It has been more than four years since doctors misdiagnosed the ectopic pregnancy of a young British woman that led to her death.
Kalisha Gordon, 21, was on her first working holiday in the Mediterranean party resort of Ayia Napa, in Cyprus, which her family had allowed as "part of growing up".
But as she prepared to fly home to tell them she was pregnant, Kalisha fell seriously ill and was taken to a private clinic in Paralimni, where she died six hours later.
Arriving in Cyprus following her death, Kalisha's family, from Tuffley, Gloucestershire, acted quickly to hire lawyers and find out the truth about how she died.
After a long fight for an inquest, it was eventually held in January last year and found both the hospital and the doctor had made mistakes.
Despite this no criminal charges have ever been brought and her family want the hospital and doctor to be brought to court.
'Worst day'
Speaking of the moment in July 2008 that he was told of Kalisha's death, her father Lloyd said: "We had a phone call from our other daughter at about two o'clock in the morning.
"She was frantically on the phone crying and shouting, saying 'Kalisha is dead, Kalisha is dead'.
"We were still in our sleep and couldn't understand what she was saying, we just couldn't take it in. We were stunned, shocked."
Mr Gordon was with his wife, Jayne, and extended family on holiday in Jamaica and quickly arranged emergency flights back to the UK before heading to Cyprus.
The family were originally told Kalisha had died of a heart attack, before finding out she had been pregnant by her boyfriend back in the UK.
Mr Gordon said that seeing his daughter's body for the first time made him determined to do something.
"I can say that was the worst day of my life," he said.
"I stood over her and promised her we were going get to the bottom of this, because who dies of an ectopic pregnancy in this day and age?"
The Cypriot police launched an investigation, but Mr Gordon said he felt no one actually wanted do anything about the death.
"The authorities kept saying 'sorry Mr and Mrs Gordon, sorry Mr and Mrs Gordon', but it felt like they were saying, 'but please go away now'."
Incorrect treatment
Four years later and after five trips to Cyprus in five months, the inquest was held at the District Court of Famagusta.
"That's when we got the truth," Mr Gordon said.
The judge found the main blame for Kalisha's death lay with the doctor, after he failed to diagnose the pregnancy as ectopic, where the foetus develops outside the womb.
He also said there were faults in the communication between the nurses and the doctor at the clinic, which led to incorrect treatment.
But speaking to the BBC in January last year Dr Petros Afxentiou said he had carried out a number of tests and did nothing wrong.
Cypriot officials have since written to Mr and Mrs Gordon stating a criminal case will not be pursued due to insufficient evidence.
The family are now hoping to take their battle to the European Court of Human Rights.
"If we'd have known the truth from the start we could have forgiven them - everybody makes mistakes," he said.
"We could have said 'they made a mistake, we've got to move on', but when they are telling us one thing and it doesn't line up to what the statements are saying or the facts - six hours in hospital and she still died from an ectopic pregnancy?
"It didn't line up, and we had to keep pushing and pushing and pushing to get to the truth.
"We're going to keep going until we get to the truth and we hope to go to the European Court of Human Rights, because we don't want it to happen to somebody else."
The family are also looking at pursuing their case through the civil courts.
"You can't lose your daughter, no explanation or nothing, we're not going to take that," Mr Gordon said.