Mystery over traveller worker Christopher Nicholls's death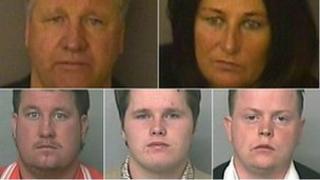 The death of a man who worked for a family of jailed travellers will remain a mystery, an inquest has been told.
The remains of Christopher Nicholls, 41, were found in a garden shed in May 2008 close to where the Connors family lived in Gloucestershire.
Police believe he was "fly-tipped" by the family as he was no longer able to work for them because of his injuries.
Coroner David Dooley recorded an open verdict, saying it was impossible to know when or where Mr Nicholls died.
He also said it had been not possible to be certain whether he was already dead or not when brought to the shed.
'Isn't sufficient evidence'
"The police evidence confirms there is no evidence available to link any other person to his death," Mr Dooley said.
"There isn't sufficient evidence to the necessary standard of proof to enable me to record any substantive conclusion explaining further how Christopher Nicholls came about his death.
"The law requires me to enter an open verdict," he added.
Five members of the Connors family were jailed last December after being found guilty of keeping a private workforce.
William Connors, 52, was jailed for six-and-a-half years and his wife Brida (Mary) Connors, 48, was sentenced to two years and three months.
Their two sons, John, 29, and James, 20, were jailed for four years, and three years in a young offenders institution, respectively.
Son-in-law Miles, 24, was sentenced to three years.
A ruling on whether longer jail terms should have been given to them is to be made in the next few weeks.
The Lord Chief Justice has been listening to prosecutors who argue the sentences were "unduly lenient".
The prosecution has appealed against all sentences except that given to Brida Connors.