Gloucestershire church used for village shop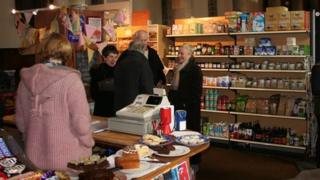 A village store in Gloucestershire which faced closure has begun trading in a nearby 18th Century church.
Chalford Community Stores had to move out of the Old Post Office after the building was put up for sale, and had failed to find new premises.
After a deal fell through to buy a nearby hall, Christ Church stepped in to offer temporary use of its building.
Gloucester Diocese said Sunday trading hours had been planned to avoid interfering with worship.
'Being adaptable'
Mandy Platt, a member of the shop committee, said the partnership was "a great initiative" and had saved the shop from closure.
The Diocese said the move meant the church would now be open to visitors every day.
Churchwarden Shirley Bussell said: "Being adaptable and finding new ways to serve our local parish is one way in which the church can ensure it remains at the heart of the village."
The Diocese said the arrangement would be reviewed and if it worked well may become permanent.