Gloucestershire food bank plugs benefits delays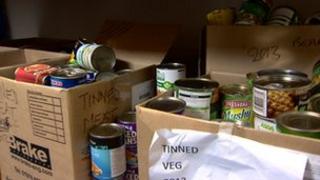 A food bank charity has said nearly half its users in Gloucestershire rely on food bank supplies due to delays in the benefits process.
The Trussell Trust said 44% of its 6,000 users blamed benefit changes, delays or being refused a crisis loan.
James Milton from the trust said: "The more efficient the system can become to move claims and referrals is what everybody would like to see."
The government said the majority of benefits were processed on time.
"It's a complex system, the benefits system, and certainly for those with sickness-related benefits, the system has changed for them where they have to be assessed whether they are fit for work.
"That has put a degree of complexity into the system that wasn't there before and has led to delays for people," added Mr Milton.
A spokesman for the Department for Work and Pensions said that the introduction of Universal Credit from October would make the system work even better.