Gloucestershire incinerator report 'fundamentally flawed'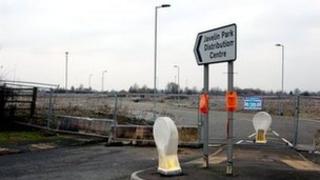 A report against plans for an incinerator in Gloucestershire has been branded as "fundamentally flawed".
The county council said the consultant's report was "full of misinterpretations and inaccuracies".
But campaign group GlosVAIN, which commissioned the report, argues it provides "conclusive evidence" that an incinerator is the wrong solution.
Consultants Ynys Resources added the plan may have been "compelling" previously, it needs to be reviewed.
The campaigners also claim proposal, as they stand, break EU law.
'Many errors'
Councillor Stan Waddington, cabinet project champion for the waste project, said it was "extremely suspicious" that neither the campaign group or the report's authors had made contact to ask any questions or check any facts.
"The bottom line is that this report is fundamentally flawed and full of misinterpretations and inaccuracies," he said.
"It's being labelled independent, but we have to be clear it has been paid for by a campaign group which has made no secret of the fact that it is completely opposed to the plans."
Gloucestershire County Council (GCC) has already signed a £500m contract with Urbaser Balfour Beatty to build a waste incinerator on a site near junction 12 of the M5.
Planning permission for the Javelin Park plant is yet to be granted.
'Moved on'
The report included findings such as the incinerator being "far too big" to meet the needs of the county, and that other waste solutions out-performed incineration.
It also suggested EU law would be contravened on a few issues such as the lack of pre-treatment of waste and also too much hazardous waste being produced by the plant and disposed of to landfill.
The county council said claims that it was breaching EU Law were "simply not true" as the plant had been specifically designed to comply fully with all UK and EU laws.
Richard Carter, from Ynys Resources, said: "I think that this project has been a long time in its development and what's happened is that the world has moved on around them.
"The economics has changed, the legislation has changed, the taxation systems have changed and what looked like quite a compelling proposal a few years ago perhaps doesn't any more."
His suggestion would be to reconsider some of the previously discarded options, with preference towards more modern thermal treatment processes, or systems of pre-treating the waste and creating fuel from it.