Cheltenham councillor collects town's rubbish after snow backlog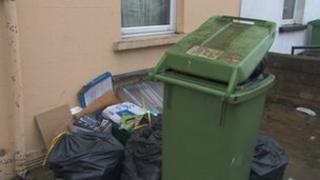 A borough councillor has been collecting rubbish from a ward in Cheltenham which he says had built up following this winter's heavy snow.
Collections were missed during the wintry weather due to safety concerns, with complaints from some residents there is still a backlog.
As a result St Paul's councillor Andrew Lansley spent his spare time over the weekend collecting rubbish in his ward.
Mr Lansley said he wanted to "do what he could" to help his community.
"The review and discussions about what's occurred over the last [few] weeks should occur between the appropriate people over at a later date," he said.
"But for now there are people in need and there are residents that need help. So I'm just addressing that.
'Lessons to learn'
"This is just another form of community-led politics and it's just good to see. We're actually just getting things done where we live."
The borough council said its contractor, Ubico, would be returning to areas which were missed and clearing as much rubbish as possible.
Last month it was revealed that an inquiry will be held into how the snow situation was handled.
The council pledged to collect all black bags on pavements whether they are due for collection or not.
Councillor Roger Whyborn, responsible for sustainability, said at the time: "We are looking at what lessons we can learn from the snow incident.
"It will take a couple of weeks to get the backlog cleared."
Ubico is jointly owned by Cheltenham Borough Council and Cotswold District Council and provides a range of environmental services across both areas.