Gloucester Rugby captain Mike Nicholls' funeral takes place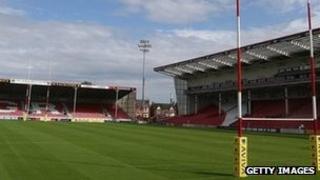 The funeral of former Gloucester rugby captain Mike Nicholls has taken place at the city's cathedral.
Some 500 people attended a private service for Nicholls, 72, whose death was announced by the club on Christmas Eve.
The former hooker made 483 first team appearances in a 17-year career, captaining the club to a first trophy with the 1972 National Knock-Out Cup.
He also served Gloucester Rugby club as a coach and a member of the committee.
With Nicholls as captain, Gloucester won 107 of 154 games, losing just nine, including a club record 39 victories during the 1973-74 campaign.