Stephen Morris reviews The Drawing of the Three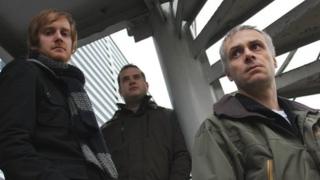 "Wings", Alan Partridge once proclaimed: "the band The Beatles could have been".
There is something of an ignoble history of members of one band going on to form a new one with what can only be described as hilarious consequences.
Beady Eye springs to mind all too readily.
Consider also (but not for too long) how Roger Waters' solo career has been a pale reflection of what he had as a member of Pink Floyd.
And the Mick Jagger, Dave Stewart and Joss Stone super group SuperHeavy has disaster written it over it.
Dave Kerridge, though, is a different story.
'Tender portrayals'
While his previous band Zoidberg were by no means a Bad Thing, his new act - The Drawing of the Three - is undoubtedly a Better Thing.
Such a view is, by definition, entirely subjective but all should agree Kerridge's new band is certainly a Different Thing.
While Zoidberg (named after a character from Futurama) were full of snarly cynicism and political satire, the new band with the longer name is more introverted, taking the themes of love and loss as their inspiration instead.
The three songs on the Monument EP are beautifully tender portrayals of heartbreak, sadness and endings.
The title song, jaunty as it is, is a song of struggle, of trial and error, and a desire for ultimate redemption: "if this is the end/I will save you again".
Meanwhile Fourteen-Two, complete with a far gloomier sound, is a song of loneliness and despair underpinned by a sense of urgency: the need to be back with the object of your affection NOW.
Finally, the sprawling Fear of Flying considers the terror of things coming to an untimely end by way of an aeroplane metaphor ("Fasten your seat belts/we're going down/but I gotta see the world/before I drown").
Just as Zoidberg proved themselves to be A* quality candidates for 90s indie A Level, there's a clear influence from the latter moments of that decade with The Drawing of the Three.
This time though there is less Oasis and more of an emphasis on the sounds of Gene, Spearmint, New Order, early Radiohead and The Lightning Seeds.
The result is a sound as complex as a fine wine, giving The Drawing of the Three an entirely distinctive sound while remaining familiar with echoes of the band's musical heroes.
The Monument EP is a rather wonderful thing. The only problem with it is there's not enough of it. Not by a long shot. More please!