Novalis Trust defends Halfway House closure decision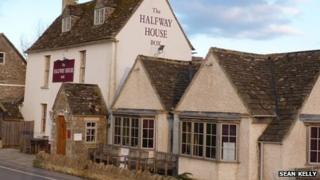 The chief executive of a school charity which closed a Gloucestershire pub with a 230-year history has defended the decision.
The Halfway House, on the edge of the site of a special school at Box, near Minchinhampton, was closed by owners The Novalis Trust on 8 July.
Chief executive Jake Lucas said nobody had been able to make a success of it.
Campaigners to save it say they will hold vigils outside it every week until it is reopened.
The Novalis Trust, which runs the nearby Cotswold Chine School, bought the premises in 2002 to help finance the school's educational activities.
But Mr Lucas said the pub was no longer viable.
Community shop
"I think the evidence speaks for itself: the fact that lots of people... with years of experience between them have just not made a success of it.
"So, from the charity's perspective, it's a valuable asset to us."
The trust admitted it had never been comfortable having a pub so close to a school where vulnerable children live, but said it never intended to close it when buying the business a decade ago.
Mr Lucas said: "The aim was to encourage fine dining and to try and get people to come here to use it as a kind of exclusive restaurant which would then probably have an easier relationship with the school.
"Sadly it just didn't work."
The plan is to reopen the Halfway House as a community shop and café where the children at the school can get work experience to prepare them for the real world.
But campaigner Sean Kelly said: "As far as the viability of the pub goes, the previous landlord wanted to actually buy the premises and he wouldn't have wanted to do that if it wasn't a viable proposition."
About 50 local people staged a protest on 27 July and say they will continue to protest every Friday.