Beth Tweddle fulfils wing-walking ambition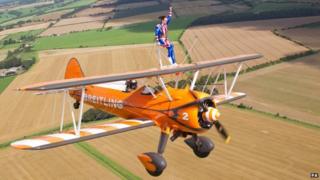 Team GB gymnast Beth Tweddle has fulfilled one of her "crazy" post-Olympics ambitions by wing-walking over the Gloucestershire countryside.
The London 2012 bronze medallist was strapped to the top of a biplane during the aerobatics stunt.
Tweddle, 27, said it was something she had always wanted to try.
"It was amazing. One minute I was sat on the floor then the next minute I was in mid-air. It was awesome," she said, after landing at Rendcomb Airfield.
She said there were lots of different things she had not been able to do in the past due to the risk of injury that she now wanted to experience.
"I did a bit of abseiling the other day and did some ice skating and I've got a snowboarding lesson next week so I'm trying lots of different things," she said.
"I'm hopefully going to do a sky dive early next year. I just want to have a go at everything."
The Liverpool Olympian, who is Britain's most successful gymnast, won bronze in the uneven bars event at London 2012, which could be her last major competition before retiring.
It was her first Olympic medal at her third and final Games, in a career which has included three world, six European and seven British titles.
She is due to be the guest of honour at a homecoming celebration taking place in her home town of Bunbury, Cheshire, on Sunday.
"The reaction has been amazing," she added.
"Everywhere I go I get recognised where before it was just the occasional person would pick up on who I was."
She said she was yet to think about her long-term plans but had decided she wanted to remain involved in gymnastics.
"I just want every child to have the opportunity to have a go at gymnastics," she said.
"Right now, I want to make the most of every opportunity while I can."