Gloucestershire rowers honoured with gold post boxes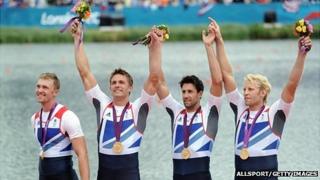 Rowers Peter Reed and Alex Gregory's rowing success has led to the first post boxes in Gloucestershire being painted gold.
Reed, who grew up in Nailsworth, and Gregory, who is from Wormington, won gold in the men's coxless four.
Royal Mail is painting a post box gold in every British Olympic champion's home town.
Peter Reed's mother, Sue, said it will "be like having a blue plaque on the house".
On Saturday, the Gloucestershire rower's medal was one of six gold medals to be won by British athletes and the sixth medal in all to be won by Team GB competitors from the county.
Zac Purchase, from Tewkesbury, also took silver with Mark Hunterin the lightweight men's double sculls.
Earlier, painters were beginning the task of redecorating the post boxes outside the post office in Nailsworth and Cheltenham High Street.
'Painful to watch'
"My feet are nearly back on the ground - I can't quite believe what we've just experienced," said Mrs Reed.
"It's painful to watch because you know for that one race, that one Olympic race they've trained for four years - and as a mum it's doubly nerve wracking - because you know how much they've put in to it.
"But it was a phenomenal experience - and it's equally overwhelming in Nailsworth because walking in the streets yesterday everybody was so excited and coming up to us and saying 'Hi - well done' as if we'd done it."
Special stamps have also been printed in honour of both athletes.
Those featuring Reed and Gregory are on sale for the normal first class price of 60p.