Gloucestershire libraries legal challenge ends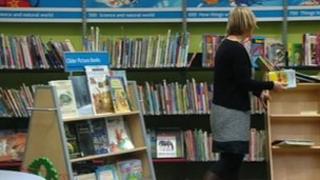 Campaigners have ended their legal challenge to planned cuts to the libraries service in Gloucestershire.
Friends of Gloucestershire Libraries (FOGL) has said it will not challenge the latest proposals to hand over seven libraries to community groups.
The Tory-run county council says it has designed a library service to be proud of and is confident community-run libraries will succeed.
The campaign has helped save the mobile library service and four libraries.
The legal challenge by FOGL began after the county council announced plans to cut £114m from its budget over four years.
As part of those plans, the library budget was to be cut by £2.6m with 10 libraries handed over to community groups.
In November 2011, the High Court ruled the county council's first consultation did not take into account how the closures would affect vulnerable groups.
'Real danger remains'
But a second consultation was carried out in January with advice from the Equalities and Human Rights Commission.
That consultation involved suggesting there should be 31 council-run libraries with seven run by local communities.
A spokesman for FOGL said: "We have strong doubts as to whether the equalities impacts of these library closures and service reductions have been adequately considered and addressed.
"These plans are now being implemented and there remains a real danger that some of our county's most vulnerable residents will lose out on access to this important and cost-effective public service."
The leader of Gloucestershire County Council, Mark Hawthorne, said: "For the past three months we have been talking to community groups who are keen to take over libraries within their areas.
"Business cases are now being developed and we are excited about continuing to support these groups to turn their plans for running local services into reality."