Gloucestershire Royal Hospital reopens helipad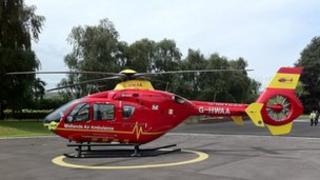 Air ambulances will be able to land at Gloucestershire Royal Hospital's helipad for the first time in more than two years after it was reopened.
Crews have not used the landing site since construction on a nearby multi-storey car park began in April 2010.
During the building work Civil Aviation Authority (CAA) safety regulations were changed and the flight path of the helicopters was no longer viable.
The helipad had to be extended at a cost of £140,000 before reopening.
The Helicopter Emergency Landing Pad (HELP) Appeal contributed £70,000 towards the work, which was matched by Gloucestershire Hospitals NHS Foundation Trust.
Gloucestershire Royal Hospital said the reopened facility would dramatically reduce transfer times for critically ill and injured patients.