NHS Gloucestershire begins community service consultation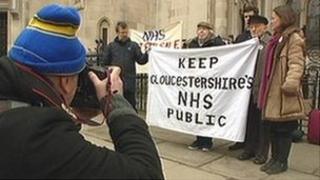 A public consultation has begun into what NHS Gloucestershire should do with its community health services.
Two options have been laid out; either establishing a new NHS Trust to provide the services or to appoint an external provider to take over management.
It is now inviting comments through drop-in sessions and feedback forms.
NHS Gloucestershire has already heard from 24 organisations, following an advert placed in May, formally confirming their continuing interest.
'High quality care'
Jan Stubbings, chief executive of NHS Gloucestershire, said she was committed to making sure the people of Gloucestershire received the best possible NHS services in the coming years.
"We need to ensure that whoever runs the community health services in the future can meet the needs of local people, can provide safe, high quality care and treatment and can make the most of the money and resources available," she said.
The consultation will end in October and a decision is expected to be made by the NHS Gloucestershire board later this year.
Earlier this year, a legal battle against NHS plans to transfer services to a social enterprise group was settled out of court.
Michael Lloyd, 76, from Stroud, had argued that the NHS acted unlawfully in planning to hand management of county hospitals and some services to a new body.
Following this challenge, the NHS agreed to begin a new process of considering the best way of transferring community services in line with Department of Health policy.