Cheltenham gas blast home owner 'did not have gas cooker'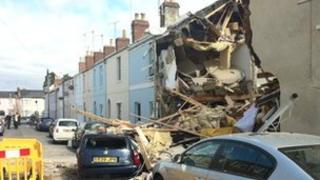 An 81-year-old woman whose house in Cheltenham was destroyed by a gas explosion did not have a gas cooker or fire, her family have said.
Betty Hodgkiss was rescued from the rubble after the explosion last month and escaped with minor injuries.
Her family wrote in a letter that she "did not light any gas cooker or fire" as none were fitted in her house.
It was read to friends and neighbours during a Jubilee street party and fundraiser held in Rosehill Street.
'Kind words'
Ms Hodgkiss' home was destroyed, two neighbouring houses had to be demolished, and a number of surrounding properties were damaged by the blast.
The letter, which was signed from Ms Hodgkiss' nephew Steve and family, gave thanks for all the "kinds words and thoughts".
It also paid tribute to the helpfulness of neighbours in the time of need and said this was "how neighbours should be".
"Betty has lost everything which is sentimental to her but she is still alive and has many good friends and family to help her over this," the family said.
"At the moment she is very well after this ordeal and has no broken bones, only minor cuts, a few burns and bruises, and is shocked at losing her home - but she understands how very lucky she has been."
The Diamond Jubilee street party, on Sunday, was also billed as a fundraising day for The Fire Fighters Charity and a day of help for the local residents who were affected by the blast on 10 May.
Wales and West Utilities said gas supplies to the properties had been isolated and investigations were continuing.
"It is not possible at this time to confirm the cause of the incident," the company said in a statement.
"As is normal procedure, the Health and Safety Executive (HSE) are leading the investigating and we are assisting."
The HSE confirmed its investigation was ongoing and would not comment further.