Crowds expected at Tetbury Woolsack Races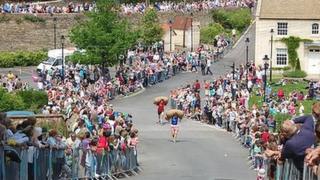 Organisers of the traditional Woolsack Racing in Tetbury, Gloucestershire said they were expecting about 4,000 spectators to attend this year's event.
The annual contest involves competitors running 280 yards (256m) up and down a steep hill carrying heavy sacks of wool.
The races are thought to date back to the 17th Century, when Tetbury was a major centre of England's wool trade.
About 40 competitors were due to take part.
Organiser Stephen Hirst said: "The old rovers used to have a good drink and come out of the pub and wanted to show off to their ladies how strong and how masculine they were so they charged down the hill with woolsacks on their back - and that's how it started."
The course runs between two pubs - The Crown in Gumstool Hill and the Royal Oak at the bottom of the hill.
The hill has a one in four gradient in places. Men carry 60lb (27kg) woolsacks, the ladies carry 35lb sacks (16kg).