Gloucestershire Police's new chief committed to savings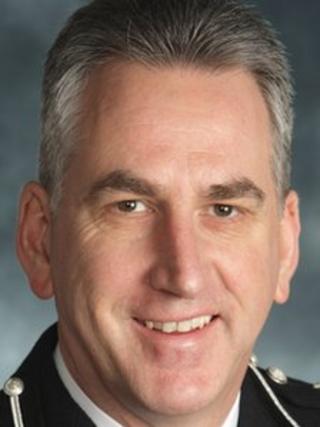 Gloucestershire Police's new chief has said he is committed to delivering the agreed plan of savings for the force.
Mick Matthews said it was fortunate that he had spent the last few years working on the force's future with the former chief constable, Tony Melville.
He admitted he would revisit certain areas, but did not believe in tearing up the plan and starting again.
Mr Melville left the role on Thursday after resigning with "grave concerns" over the police reform agenda.
'Green light'
He has been replaced by Mr Matthews who will be the chief constable for 18 months.
"Like every force in the country we are going to be facing the challenge of declining resources and less money, and of course that means we are going to have to consider delivering policing in a different way," said Mr Matthews.
"I have been working personally on this for two and a half years with Tony, therefore it's a green light to carry on to deliver the plan that we've agreed."
One area that Mr Matthews said he wanted to focus more energy on was making senior officers "more visible".
When the Olympics takes place, the force will have to change how it operates because a number of commanders will be leaving the county to support policing in London and Dorset.
Mr Matthew said the force was going to be stretched and remaining commanders would "need to be more visible and deployed in a different way".
'Key focus'
This will be reviewed once the London games is over and, if deemed successful, some of the elements could be retained.
"A lot of the time some of our most senior people are not about during the hours of darkness, for example," said Mr Matthews, who has been the deputy chief constable since January 2010.
"I'm keen to see whether we can improve levels of supervision, levels of command, and therefore levels of confidence in local policing, through deploying our more senior people in a different way."
He was also keen to emphasise that his key focus in the job would be to reduce crime and deal robustly with criminals.
Mr Matthews was born in Erith, Kent, and has been a serving police officer for 30 years. He joined the Gloucestershire force in 2005.