Work to redouble Kemble to Swindon line to begin in October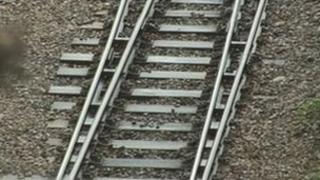 Preparation work to redouble the line between Kemble and Swindon is to begin in October, Network Rail has announced.
The £45m project was given the go-ahead in March 2011, despite concerns it would fall victim to government spending cuts.
Doubling the 12.5 miles of single-track will remove a bottleneck on the Cheltenham to London route.
Network Rail said the work would culminate in a 23-day closure of the line in the summer of 2013.
But Mike Gallop, director of route asset management at Network Rail, said the "vast majority of works will be undertaken at night".
'Benefits to passengers'
Guy Dangerfield, from Passenger Focus, said information on planned rail closures was "absolutely critical to passengers".
"There are clearly going to be benefits to passengers from having a two track railway where there's more flexibility operationally and greater capacity overall," he said.
"And passengers say to us that as long as they know about it sufficiently far in advance and information is all accurate and clear - they can generally work around things."
The section between Swindon and Kemble was "singled" in the late-1960s as a cost-saving measure by British Rail, under agreement with the government.
Work on the scheme is expected to be completed by spring 2014.