Restored Whitecroft Railway Station officially opened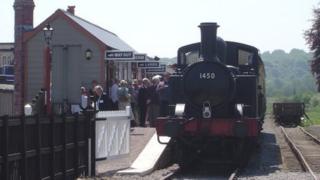 The restoration of a railway station in the Forest of Dean has been celebrated with a steam locomotive trip.
Whitecroft Railway Station opened in 1875, but last saw regular passenger services in 1929.
The train travelled from Norchard to Whitecroft to mark the official opening of the new station.
Stuart Bearne, from the Dean Forest Railway, said some 65 people had turned out and the ceremony went "extremely well".
"We had a very short speech on the platform and then the tape was cut by one of the first members of the railway," he said.
The project had taken around 18 months in total and cost in the region of £110,000.
Work was funded by grants from the Forest of Dean Local Action Group as part of the Rural Development Programme for England.