Rosehill Street gas blast demolition work completed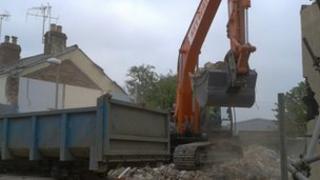 Demolition work on homes that were damaged in a gas explosion in Cheltenham has ended early.
Work to knock down two properties either side of the house that blew up on Rosehill Street began last Friday.
Contractors Rex Bishop and Son said site clearance would be finished later, a day ahead of schedule.
Eleven other houses were severely damaged in the blast on 10 May. Some families have been told it will be a year before they can return.
Betty Hodgkiss, 81, whose house was destroyed in the blast, suffered cuts and bruises.
Residents are to hold a street party on 3 June to raise money for The Fire Fighters Charity, and to help neighbours who are having to stay in hotels and rented accommodation.
Local resident Ellie McGuffie said: "Anything we can do to help them and to make their lives a bit more comfortable would really, really help."