NHS Gloucestershire advertises for parties to run services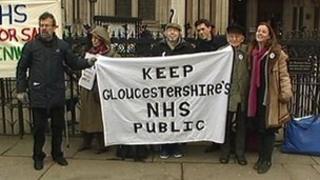 The future of who provides community health care in Gloucestershire has taken a new turn.
NHS Gloucestershire has advertised for interested parties, both private and within the NHS, to run services such as community nursing and therapy.
In February a legal challenge against the Primary Care Trust (PCT) stopped an attempt to transfer services to a social enterprise group.
Stroud Against Cuts campaigners said they would fight privatisation.
NHS Gloucestershire will be abolished in March next year and GPs will take over the buying of services for local people.
Its advert states: "We need to ensure that whoever runs these community health services in the future can meet the needs of local people, can provide safe, high quality care and treatment and can make the most of the money and resources available."
There will now be 30 days for interested parties to apply to run its services.
The views of staff and members of the public will then be sought before it decides whether a contract with a provider can be entered into or whether a tender process is required.
Caroline Molloy, from Stroud Against the Cuts, said: "We will continue to watch out for any attempts to offer up our NHS hospitals to the private sector, and to fight it at every stage.
"All we want is for people's views to be heard and taken into account.
"The overwhelming majority of the public, four out of every five people nationwide, want health services to remain in the NHS, not go out to private companies."