Badminton Horse Trials cancellations affects local economy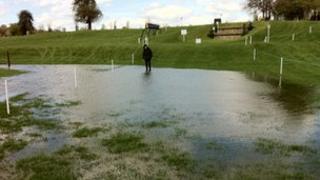 The cancellation of the Badminton Horse Trials will result in thousands of pounds of lost business, local firms have said.
After heavy rainfall over the weekend, the waterlogged grounds were judged to be too dangerous.
Vice chair of Tetbury Chamber of Commerce, Gene Henderson said: "It means a huge amount for Tetbury, it is definitely damaging."
The world-famous annual event attracts about 250,000 visitors to the county.
Hotel manager Mark Gibbons said: "It's been having a huge impact on the local area. We've only got 12 rooms here and most have been cancelled.
'System will cope'
"We'll lose about £4,500 to £9,000 on extra food and drinks, and we can't re-book our rooms, we'll lose a huge amount.
"We'll have to work really hard to try and sell them and charge little as possible with our cancellation policies."
Tewkesbury Chamber of Commerce said local businesses were open as usual and other local events such as the Cheltenham Jazz Festival were going ahead as planned.