Staff want to buy Gloucester ski centre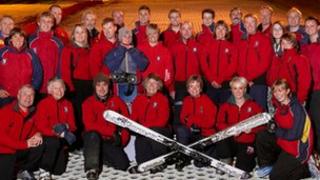 Staff at a ski centre in Gloucestershire are trying to raise about £1.5m in order to buy it.
Gloucester Ski and Snowboard Centre was put up for sale by Ramada Jarvis in 2010 but it failed to find a buyer.
It was taken over by Jupiter Hotels Ltd when Ramada Jarvis went into liquidation in 2011 and is now being put up for sale again.
The centre, which has one of the UK's longest artificial dry ski slopes, employs 51 people.
They including former national dry slope champion Chantelle Goddard-Jones and ex-British snowboarding team member Vickie Pullin.
'True passion'
Staff are asking members of the public to back their buy-out bid by joining a Facebook group in support of the plans.
They are also seeking backing from external investors.
Sue Dermody, joint chief instructor at the centre, said: "It really needs to be in the hands of people with a true passion for skiing.
"We truly believe that this is the best way forward for the centre and its users, which is why we are asking for support from the public."
The group recently presented its purchase offer to Jupiter Hotels executives who will discuss the matter at a forthcoming board meeting.
Jupiter Hotels was unavailable for comment.