Gloucester's Greyfriars dig uncovers medieval floor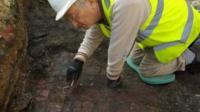 The ancient cloisters of Greyfriars Priory and the remains of a medieval tiled floor have been uncovered during an archaeological dig in Gloucester.
The excavation was carried out by a small group of amateur diggers who were supervised by Cotswold Archaeology.
Chief executive Neil Holbrook said: "We knew the cloisters existed but no-one has ever seen them before."
All the findings, such as pottery, will be recorded and then exhibited at Gloucester Museum later in the year.
"In a sense, we knew there would be something, as the remains of the church are still a landmark in Gloucester today," said Mr Holbrook.
"But even when you plan an archaeological dig, the simple fact is you don't know what's going to be underground until you start digging."
Now the project has finished, the excavation site at Brunswick Road will be backfilled to preserve the cloister walls and medieval floor.
"When you dig up a piece of medieval pottery or a piece of medieval glazed tile and you're the first person in 800 years to have seen it...it's what we all live for," added Mr Holbrook.