Council 'must learn' from Cotswold Water Park Society report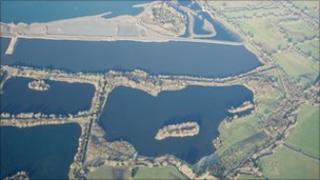 An independent review into the affairs of the now defunct Cotswold Water Park Society Limited (CWPSL) has said lessons must be learned.
The inquiry began after the society's former chief executive, Dennis Grant, was jailed for fraud in July.
The reporthighlights shortcomings within Gloucestershire County Council, which was a partner in the society.
The council said it would respond to the findings after an audit committee meeting on Monday.
The investigation, ordered by the county council, was asked to look at the setting up of the CWPSL, its governance and the county council's relationship with the society.
Fraud case
The report outlines a number of areas where changes in county council procedures need to be made, including its complaints system and its policy for disposal of property.
It also says the role of chief finance officer "should be more carefully defined in financial regulations".
Dennis Grant admitted fraud totalling more than £650,000 and was sentenced to four years and four months at Gloucester Crown Court in July 2011.
He had transferred money from the charity's accounts to his own between November 2006 and January 2009.
The Cotswold Water Park is made up of 150 lakes near Cirencester which were created through gravel extraction.
A new charity, the Cotswold Water Park Trust, took over from the CWPSL in March last year.