Campaigners 'breach court order' at Forest of Dean centre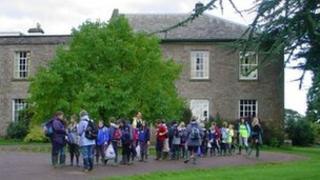 Campaigners occupying a disused environmental education centre in the Forest of Dean are holding an event, despite a court order.
An injunction was issued on Monday to evict the group from The Wilderness Centre, which was closed last year by the county council.
Protect the Wilderness is holding a two-day anti-capitalist gathering.
Gloucestershire County Council said the group was "in breach of the injunction, which is a criminal offence".
The group Protect the Wilderness claims the legal process leading to the eviction was flawed and their members intend to stay at the site.
Spokesman Thom Forester said: "The council's legal case has so many holes in it and they've ignored their own procedures and rushed it through, and the judge just rubber stamped it."
The council closed the centre at Mitcheldean last August because of budget cuts.
Barrier erected
About 12 protesters from Protect the Wilderness have been occupying the property since January.
They say the site "belongs to the people" and they want to reopen it to the public.
The Reclaim the Fields gathering, which began on Thursday, says it is part of a movement which aims to "reassume control over food production".
Protect the Wilderness said about 60 people had turned up to the event.
Some of them erected a barrier at the site in an attempt to stop the group being evicted.
Ahead of the gathering Andrew McCartney from the county council said: "We're pleased the court has found in our favour on all accounts, that includes an injunction preventing the planned Reclaim the Fields spring gathering from going ahead.
"We will now be working with the court bailiffs and the police to take the next steps and remove the squatters from the site.
"We hope that they will adhere to this order and leave the site peacefully as promised."
A separate campaign group, Friends of the Wilderness, challenged the council's decision to close the centre last year in the High Court, but the challenge failed.
It is currently in discussions with the council about buying the centre with a view to reopening it.