Cotswold Water Park 'recovering' after fraud, says trustees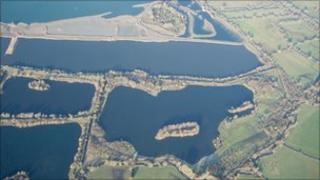 A charity that was defrauded by its chief executive of more than £650,000 is recovering, its new trustees say.
Dennis Grant was jailed for stealing the cash from Cotswold Water Park, on the Wiltshire-Gloucestershire border.
Grant admitted paying trust funds into his own account and was sentenced to four years and four months in prison, in July.
Now, the charity's new trustees say they are on track to restore the organisation's work and reputation.
The new Cotswold Water Park Trust took over the running of part of the tourist attraction and conservation area in March following a lengthy public consultation.
All the members of the old society resigned.
'Survive financially'
Interim chairman of trustees, Dr Simon Pickering, said it had been a traumatic year for both staff and the trust.
"For the staff it was a real shock that somebody would behave like that to a charity - and actually take money to line their own pockets, people were appalled by it," he said.
"And then of course there was the uncertainty over whether the organisation would survive financially.
"But with the new trustees coming on-board and seeing that there was a future, I think staff morale is now on the rise."
Dr Pickering said that during a recent AGM some of the charity's "fiercest critics" became "very complimentary" of it by the end of the meeting.
"[They said] we'd turned the governance, the finances and the openness of the organisation completely around," he continued.
"And after the AGM there seemed to be a lot more support for the organisation."
The park consists of more than 140 lakes created by gravel extraction and covers about 40 sq m (140 sq km).