Gloucester fire boat makeover ready for Queen's Jubilee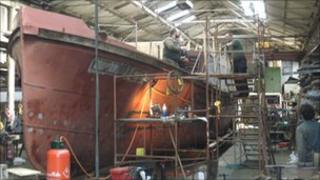 A firefighting boat from the 1930s is in Gloucestershire for a £500,000 makeover in preparation for the Queen's Diamond Jubilee anniversary next year.
The Massey Shaw is having its hull strengthened, engine overhauled and a new deck fitted at Gloucester Docks.
It will be part of a River Thames flotilla to mark the Royal anniversary.
The vessel, built in 1934 for the London Fire Brigade, was one of the 'little ships' used during World War II to rescue soldiers from Dunkirk.
'Demanding job'
Jon Hall, chief fire officer for Gloucestershire, said: "She is being done up ready to go back in time for the river pageant which is a massive thing that is being put together down the River Thames for the Queen's Jubilee.
"She will then lead the fire and rescue flotilla which we are really pleased to be involved with - we have actually got one of our boats going down there to join in that flotilla."
Nigel Patricks, from Nielson's Shipbuilders in Gloucester, said staff were used to rebuilding all sorts of boats but this was the first time they had worked on a riveted hull.
"Every single rivet that we put in has to be watertight, otherwise it will leak, so it is quite a demanding job," he said.
Once the restored vessel is back on the River Thames, the preservation society behind the project will find a new home for it use it for pleasure trips, educational visits and water displays.
The project has been supported by the Heritage Lottery Fund.