Gritter Twitter service launched in Gloucestershire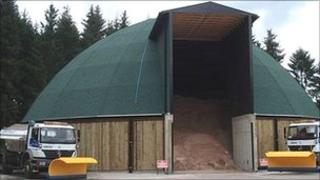 Drivers in Gloucestershire can now receive updates online about which roads have been gritted in the county.
The county council has set up a Gritter Twitter feed on the social networking website, Twitter.
The service will be used to tweet regular updates on the weather, road conditions and gritting activity.
Councillor Will Windsor Clive said the service would allow drivers to make more "informed decisions" before travelling in severe weather.
Mr Windsor Clive, the cabinet member for communities, said: "When we have severe weather people want to be reassured that we are out treating the roads, where we have been and when.
"Using twitter is a simple, free way of getting these messages out there and more and more people are using twitter every day."
The council grits A, B and some C roads and routes to emergency services, such as hospitals and fire stations, during the winter months.
It has also increased its salt stock from 9,600 tonnes last year to just over 11,000 tonnes this year by opening two new salt domes.