Last Nimrod lands at Cotswold Airport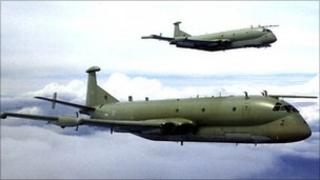 The RAF's last Nimrod aircraft has touched down in Gloucestershire after its final flight.
The Nimrod R1, used for reconnaissance and gathering electronic intelligence, landed at Cotswold Airport where it will be decommissioned.
Several plane-spotters turned up at the airport, near Cirencester, to witness the aircraft's final landing.
An event took place at RAF Waddington in Lincolnshire in June to officially say goodbye to the aeroplane.