Stephen Morris reviews Cheltenham band The Suspectors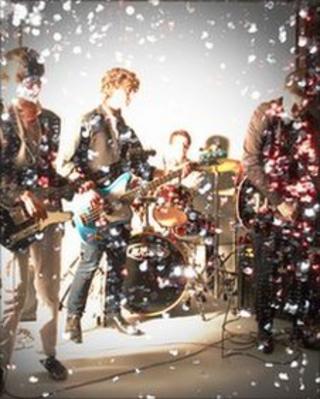 With a name like The Suspectors, one could be forgiven for thinking this band from Cheltenham were a 70s punk act to join the ranks of The Ruts, The Adverts or The Cramps.
In fact, nothing could be further from the truth.
The Suspectors are an indie rock band steeped in the sounds of the 21st century, as the three track EP 'Blooming in Limbo' testifies.
Here you'll find nods of the head towards British Sea Power ('Thousand Faces'), The Manic Street Preachers and The Libertines ('Echoes').
You'll also find hints of Leonard Cohen (compare and contrast the strained vocals of 'White Horizon' with Cohen's classic 'Marianne') and Dave Gilmour.
You know Dave Gilmour. He's the one whose son climbed the cenotaph during a protest. Oh, and he was in a band called Pink Floyd.
What you won't find though are fiery two and a half minute blasts of new wave noise.
These are huge, long, sprawling songs - spread out over six minutes 16 seconds in the case of 'White Horizon'.
Not that the songs outstay their welcome. On the contrary.
As if to prove Einstein's theory of time being relative, it comes as a complete surprise to find the songs ticking past the five minute mark - so full of interesting sounds are these songs. Who needs E=mc² anyway?
Here, you'll find songs where the vast instrumentals play the major role in setting the mood.
The relatively minimalist lyrics though are in danger of becoming as uninspiring and uninspired as inspirational lyrics tend to be.
Regular readers of these pages may be aware of this writer's occasional frustrations with lyrics that rely heavily on weather metaphors to convey their meaning.
And in The Suspectors' 'White Horizon' we have it all: an entire meteorological office of weather related lyrics: rain, sun, clouds, rainbows and more rain (well, this is British weather we're talking about).
Elsewhere, the lyrics are more imaginative, as found in the track 'Echoes'.
While still featuring much in the way of weather imagery (rain, sun and a few bog standard nature references to oceans and hills) the song turns into something deeper.
It's a song about music as an experience: "When the record hits the groove/and the people start to move/revolution through the human soul/you can't control".
The rhyming scheme may be a little basic and forced, but, combined with the epic, churning music supporting them, it makes for something almost profound sounding.
Musically The Suspectors are a cut above the rest.
This EP has some of the best sounds to come out of Gloucestershire so far this year.
While their lyrics have a little more catching up to do (some that will follow inevitably with time) we can expect good things from this band.
In The Suspectors you'll find a band making bold steps toward somewhere rather exciting. Fasten your seatbelts.