Scissors-stabbing fiance Nigel Bassett jailed for 10 years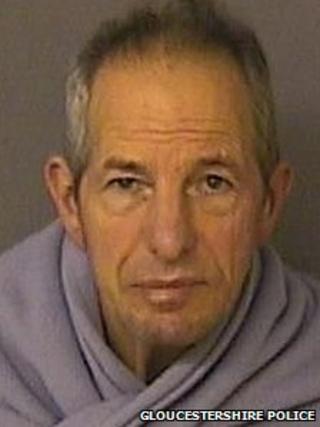 A man has been jailed for 10 years after stabbing his ex-fiancee minutes after she called off their wedding.
Nigel Bassett, 63, of Parklands, Wotton-under-Edge, Gloucestershire attacked Julie Grey, 61, in a "frenzied" attack, last November.
Despite that, Mrs Grey wrote to the judge, Neil Ford QC, saying she forgave Bassett for the attack.
The pair, both Baptists, had just met a minister to discuss their problems, Bristol Crown Court heard.
Disarmed with umbrella
Bassett, who had denied attempted murder, used a pair of scissors to attack Mrs Grey in a car park in Wotton-under-Edge on 8 November last year.
Mrs Grey, a widow from Oldbury-on-Severn, South Gloucestershire, had told the jury she had broken up with Bassett "moments earlier as she could no longer live with his possessive and jealous behaviour".
During the attack, Bassett hit his victim with a pair of shoes before a passer-by disarmed him with an umbrella. He also kicked his ex-fiancee "like a football" during the attack.
The court heard that Mrs Grey's relationship with Bassett had begun in January last year, following the death of Bassett's wife from cancer the previous October.
The couple quickly become engaged as the relationship "blossomed".
But the pair met a minister from their church to discuss the problems they had been having, after Mrs Grey became worried about Bassett's jealous behaviour when she was friendly towards other men.
'Body jabs'
During the meeting Mrs Grey told Bassett the relationship was not working and she could not continue with it. It was after this meeting that Bassett launched his attack in the car park.
"He went from the back of me round to my left hand side. I felt two punches to my face, on my left cheek," she said.
"I felt jabs to my body, just jabs all over my body, particularly my back, like somebody really giving your body a blow," she added.
"I couldn't understand what was happening. I said 'What are you doing?' and I tried to defend myself.
"I thought he was trying to kill me. I felt as if I was struggling to stay alive."