Cotswold couple fear council sale of Northleach Old Prison cafe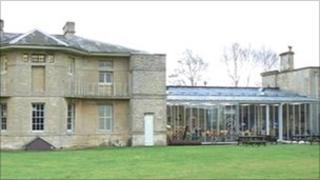 The owners of a Cotswold bistro fear they could lose their business because the council is considering selling the building.
Nick and Felicity Blades want to renew their lease at Northleach's Old Prison when it expires in September.
Mr Blades said they had agreed to do business with Cotswold District Council but the "goal posts had moved".
The authority said it would consider a number of options at a meeting on 12 July and could not comment before then.
Mr Blades said they had been asked to take on full repairs for the building in addition to the rent they now pay, and had not been given enough time to explore the deal.
They are nearing the end of a five-year lease for the 18th Century building.
"It's quite a big liability taking on a building like this and we would have to agree a package with the council because there are some issues with the building," he said.
Negotiations had been ongoing since February but the couple now feel let down by a "sudden" decision to consider selling the building.
The Cotswolds Conservation Board (CCB) has also leased part of the site for more than 10 years.
Director Martin Lane said he was "surprised and disappointed" that the council are now considering a sale option.
He said the CCB had applied to Heritage Lottery Fund for "substantial funds to invest and develop the site" and he hoped the authority would review their ideas and support the bid.