Kings Stanley Primary School's new £2.5m building opens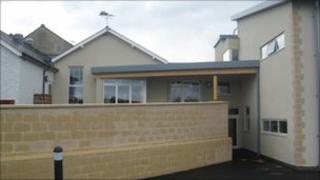 A new £2.5m school building has been officially opened in Gloucestershire.
The look of the new Kings Stanley C of E Primary School, in Stonehouse, was partly designed by parents and pupils along with the county council.
The Bishop of Gloucester Bishop Michael began the celebrations with a ceremony of thanks.
"We had nowhere where we could eat dinners so children were eating dinners in the classroom, which is not good," said head teacher Barbara Deacon.
She added: "If it rained people had to run from the temporary buildings to the other buildings.
"Here, it doesn't matter if it rains or it's sunny. We're really happy."
Work started on the new school building on 17 May.
The school has 180 pupils aged between four and 11.