Meningitis Trust charity train is named at Stroud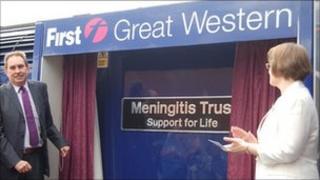 A ceremony has taken place to officially name a train after the Meningitis Trust.
The power car has been given the name after the Stroud-based trust suggested the idea to First Great Western to mark the trust's 25th anniversary.
Families who have been supported by the charity were present at the ceremony.
Chief executive of the trust Sue Davie said: "If it sparks somebody to contact us because they need some support then that will be fantastic."
"The train is going to be going all around the south west and south and into London, and [a large] number of people will see it," she added.
First Great Western's managing director, Mark Hopwood, and former Labour MP for Stroud, David Drew, carried out the naming ceremony at Stroud station.
The Meningitis Trust was formed in 1985 after a group of parents got together following an outbreak of the disease in Stroud and Stonehouse.
A year later it became a registered charity. Since then it has taken more than a million calls on its 24-hour helpline.