Bishops Cleeve and Gotherington residents oppose plans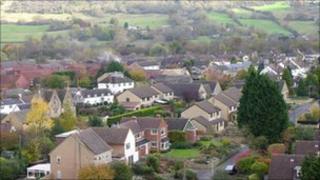 Residents in two Gloucestershire communities have said new houses being built nearby could undermine the identity of their villages.
Bishops Cleeve and Gotherington are less than a mile apart and work is under way on 450 new homes on fields in between.
Project developers Comparo Limited said there is a "demand and market" for more housing and business space.
But Peter Badham, from Bishops Cleeve Chamber of Commerce, said: "The trouble is that it's a foot in the door."
Sylvia Stokes from Gotherington Parish Council added: "I moved into this area to be in a village. We're standing here in a position of outstanding natural beauty, looking at Cleeve Hill, and we can only just see the tops of houses in Bishops Cleeve at the moment."
The developers maintain that a "significant area" between the two villages will remain undeveloped.
Jonathan Orton, from the project's planning consultants Origin 3, said: "There is a huge demand for additional housing in Bishops Cleeve which is unmet, in particular affordable housing.
"We're very confident that the proposals we've put forward are very sensible and sustainable."
A planning application has also been submitted by the developers to build a business park and plans for another 450 homes are on hold, ahead of an appeal in September.
The developers say the new business park would create nearly 200 jobs.