Whitecliff furnace restoration welcomed by historians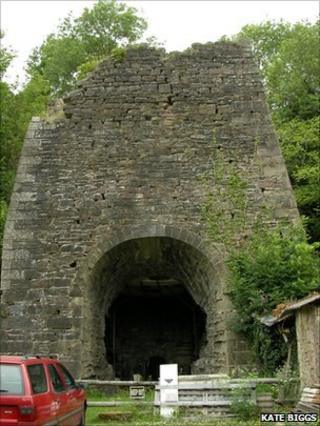 Historians in Gloucestershire have welcomed a grant of £65,000 to help to preserve a nationally important piece of industrial heritage.
Whitecliff Furnace dates back to about 1795 and is the only coke fuelled blast furnace left in the Forest of Dean.
The site near Coleford is said to have played a major part in the development of the UK's iron and steel industry.
Refurbishment will be funded by the Heritage Lottery Fund and Forest of Dean Local Action.
Kate Biggs from the Overlooking the Wye project, which helps to renovate and promote local attractions, said the site was important in helping track the development from charcoal blast furnaces to later coke-fuelled blast furnaces.
Whitecliff Ironworks attracted the metallurgist David Mushet to settle in Coleford to experiment with the processes of producing iron and steel.
Mushet moved to Coleford to take up full-time management of the ironworks in February 1810 and became synonymous with the local area.
His son Robert Mushet helped to develop the steel-making process.
"The site was only partly successful," said Ms Biggs. "Mushet had an involvement in the site and it was quite experimental at the time."
Ms Biggs said it was thought that the furnace never really performed to expectation and the company went bankrupt, preserving the furnace in its current form as a result.
"Once conservation works are done here it'll be a real monument to Coleford and Mushet himself," Ms added .
Renovation work will begin this summer.