Silk dress worn by the Queen as a princess sold at auction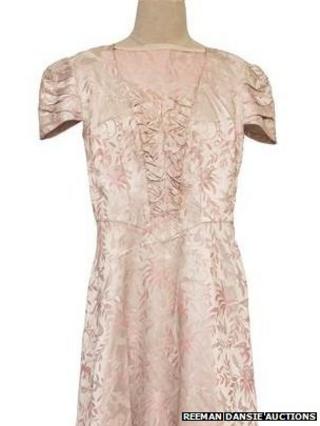 A 1940s silk gown worn by the Queen as a young princess and later given to a telephonist at Clarence House has sold for £2,000 at an auction in Essex
The pink floral pattern dress was given to Kathleen Ward, who worked for the princess and later the Queen Mother.
The dress was expected to fetch up to £1,500 at the auction in Colchester on Tuesday.
Ms Ward's letters of engagement and a job reference were also sold, Reeman Dansie Auctions of Colchester said.
Auctioneer James Grinter said: "It is rare for these items to come up for auction because royal clothing now is often donated to charity shops anonymously."
It was common after the war for wealthy people to pass clothes they no longer needed to their friends or even staff, he added.
"Ms Ward was the same size and build as Princess Elizabeth and she was delighted to receive such expensive clothes from such a prominent person.
"At the time clothes were still rationed.
"Her daughter inherited three dresses and wore two of them out at fancy dress parties but this one survived."
Ms Ward's story of how she came to wear a royal dress was published in the popular magazine Woman's Own in 1961.