Colchester's 'Jumbo' water tower bought by poultry farmer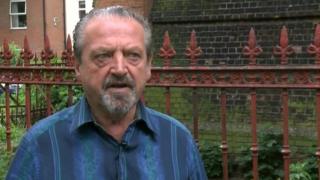 A water tower in Essex has been sold to a local poultry farmer, who said he had not gone to the auction with the intention of buying it.
Paul Flatman purchased the Colchester tower, nicknamed "Jumbo", in London for £190,000 on Thursday.
Rival bids included one from the Balkerne Tower Trust which wanted it turned into a museum.
Mr Flatman hopes to create a rooftop restaurant and flats, as "something needs to be done about Jumbo".
The 130ft (40m) high building at Balkerne Gate was built in 1882, but has been derelict since the 1980s.
Developer George Braithwaite put the tower up for auction after his plans to convert it were rejected last year.
Mr Flatman said he intends to follow a similar path to Mr Braithwaite and will work with the borough council, and the Balkerne Tower Trust if needed, to devise a planning application.
"The intention was not to buy, but it seemed such a reasonable price for such a large property I ended up purchasing it," said Mr Flatman.
"I'd dearly like to have a restaurant on the top of the tower and some flats to fill in the sides.
"Something needs to be done about Jumbo, it eventually will fall down."
Tim Young, portfolio holder for planning, community safety and culture at Colchester Borough Council, said a restaurant in the sky would be a "great deal" for Colchester, but the council welcomed any ideas that would "save this great building".