Family of PC Ian Dibell to receive his George Medal for gallantry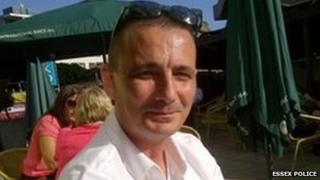 The family of a police officer shot dead while tackling a gunman are to receive a posthumous George Medal for gallantry on his behalf.
PC Ian Dibell was shot in Clacton in 2012 while intervening in a dispute.
His father, Colin Dibell, will collect the medal, which recognises civilian gallantry, at Buckingham Palace from the Prince of Wales.
PC Dibell, 41, is the first officer in the country to receive the award in 21 years, and the first from Essex.
He was off-duty at home when he noticed a dispute in a street nearby.
Peter Reeve had fired shots at his neighbour Trevor Marshall and Mr Marshall's girlfriend, Katarzyna Karolak, and then chased Mr Marshall in his car.
PC Dibell leaned into the car window to try and grab the gun, and a bullet passed through his hand and in to his chest. He died at the scene.
Mr Reeve took his own life in a churchyard in Writtle, near Chelmsford, the next day.
Just over 2,100 George Medals have been awarded since their inception in 1940.