Denehole 'crater' family returns to Grays home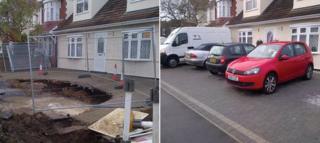 A family has returned home after a huge crater swallowed up most of their driveway.
The hole outside the Coldham family home in Grays, Essex, appeared in December 2012.
It was caused by a denehole, a small cave left below ground by 17th Century chalk miners. Grays is home to a number of deneholes.
The hole has now been completely filled with hardcore and ash and new block pavement set on the driveway.
Terry Coldham said although he lives near Denehole Roundabout he was not aware of what they were.
"The area has got tunnels and networks of caves all around here," he said.
"We were not aware of deneholes when we bought our home. We are all too aware of them now."
Asked what he made of the recent publicity surrounding sinkholes, Mr Coldham said: "I think the neighbours are now very aware of the all the little caves below ground and are worried.
"They are sitting on top of caves."
Mr Coldham said he first noticed the problem in Blackshots Lane when he saw a 2ft (0.7m) hole in his driveway.
Within a matter of seven or eight hours, it had grown into a 5ft (1.5m) hole.