Essex County Council to halve youth service budget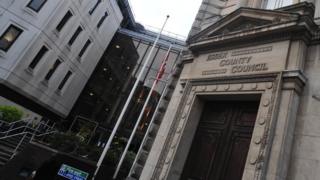 The amount spent on youth services in Essex is to be cut by more than half, it has emerged.
Essex County Council currently spends £5m on services for 13-19-year-olds. That amount will be cut to £2.4m over three years.
The council said it would not close any youth clubs but instead see them run by volunteers, with some council support.
But opposition councillors have questioned whether there will be enough volunteers to staff the service.
The county's youth service runs 28 youth clubs and employs 170 youth workers.
Next year's budget will be cut to £3.4m, falling to £2.5m from 2015 and £2.4m from 2016.
One of eight youth buses will be dropped while charges for taking part in some activities, including the Essex Dance Theatre, will increase by about 7%.
Schools will be charged more for using some youth services, including Complementary and Alternative Education.
'Increase and flourish'
The Conservative-led council said there will be "some reduction" in staffing, but was unable to say how many jobs would go, although "redundancies would be kept to a minimum".
Julie Young, leader of the Labour group on Essex County Council, criticised the proposals, saying "at a time of falling volunteer levels across Essex" she was concerned the council was planning for youth services provision to be provided by the voluntary sector.
Conservative councillor Ray Gooding, cabinet member for education and lifelong learning on Essex County Council, said he had listened to the views of young people.
"It has become increasingly clear how important the Essex Youth Service is to our young people therefore I am absolutely delighted that we have been able to respond positively to their wishes and retain all elements of the Essex Youth Service," he said.
"We do need to work within a reduced budget and therefore aspects of the service will need to be delivered differently but based on our experience initiatives such as involving the community has seen local youth provision increase and flourish."