Clacton explosion: House blast victim feared for life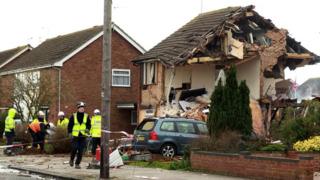 A woman who lived next door to a house in Essex that was destroyed in a gas blast said she feared she was "going to die" in the aftermath.
Kim Whitby, 56, was in bed when the explosion happened on Wednesday morning in Cloes Lane, Clacton.
She told the BBC her ceiling fell on top of her and she "screamed" at her husband to stop moving to avoid the bed falling through the floor.
The occupants of the exploded house are in a "stable" condition in hospital.
A man in his 70s and a woman in her 50s were both badly burnt, ambulance crews said.
Mrs Whitby suffered cuts and bruises, but her husband Ray, 47, remains in hospital with leg and face injuries and was due to undergo a brain scan, she said.
Her father-in-law Jack, 69, was also in the semi-detached house at the time of the blast but was unhurt.
In total, 10 people were injured in the explosion but everyone else has since been discharged from hospital.
Mrs Whitby's semi-detached house was demolished overnight, but all other residents have been allowed back into their homes.
'Going to be killed'
"I was in bed and I thought I'd have five more minutes but then, all of a sudden, I just saw the floor above was coming on top of me," she said.
"When I looked I could see the houses to the left of me and all the window and the wall was gone.
"There were just flames coming out of the house next door and their dog was barking because he could see me.
"My husband came into the bedroom and I screamed at him, because I thought if he treads on something the bed is going to go and I'm going to be killed.
"I just could not stop screaming. I thought I've got to get out, because if I don't I'm going to die because I think it's going to explode."
She said a passer-by intervened and went into the house to get her out into the street.
"I sat on the side of the road. Blood was coming from my head and my face.
"I couldn't sleep last night because every time I closed my eyes I could see everything again. I could see myself screaming, the flames and the poor people next door."
Plumber Simon Cavill, 47, from Brightlingsea, described how he helped Mrs Whitby out of her house.
"I jumped out of the van and ran towards it to see what the situation was, it was just absolutely horrendous," he said.
"There was an old guy on top of the rubble. I said, 'you've got to get out of there' and he said, 'I can't, my wife's trapped'.
"I went upstairs and there was a lady lying in the bed. I got her down the stairs on my back and got her to safety. I didn't know what else to do.
"There was another old lady downstairs who was quite severely burned. Me and this other lady picked her up and walked her to the ambulance.
"I've never experienced anything like that in my entire life and I wouldn't want to again."
Essex Police, Essex Fire Service, the Health and Safety Executive and the National Grid are carrying out an investigation into the blast.
Stephanie van Rosse, from the National Grid, said it did not appear as though there were any faults in the pipes leading up to the gas meters of the three badly-damaged houses.