Chelmsford Cathedral compiles congregation Jesus image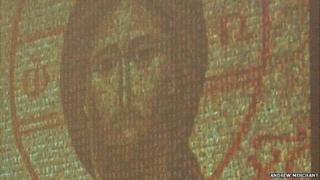 A cathedral has marked its 100th anniversary by creating an image of Jesus Christ out of individual photographs of worshippers.
Pictures of people attending the special service at Chelmsford Cathedral were taken as they walked in.
By the end of the service, those images had been processed by computer into a montage beamed on to a large screen.
Bishop Stephen Cottrell said he and the nine previous bishops had the same message: "We need to be one."
The program used to generate the photo mosaic analyses the overall colour and brightness of each individual photograph before assigning them to different parts of the image of Christ.