Colchester Zoo told visitors escaped wolves case was 'medical emergency'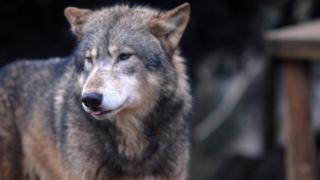 Zoo visitors were told there was a "medical emergency" rather than wolves on the loose after five escaped from their enclosure, it has emerged.
Five of the six timber wolves at Colchester Zoo escaped on Tuesday at about 07:30 GMT. Three were shot dead.
Bryony Williams, who was at the zoo at the time with her children, said she was concerned she was not told of the escaped wolves.
The zoo declined to comment on the information it gave to visitors.
Although there was a cordoned-off area in the lower part of the zoo, the attraction remained open until the afternoon.
Ms Williams said she understood alerting the public might have caused "hysteria" but that she had mixed feelings about the way it was handled.
She said describing the situation as a "medical emergency" seemed "a bit silly".
Withheld information
Colin Sykes, mayor of Colchester and ward councillor for the area which includes the zoo, praised the zoo for "keeping a lid on things" saying people would have "gone bananas" if they had known the truth,
"They appear to have managed it very well," he said.
Essex Police learned of the escaped wolves at 08:00 but did not confirm the escape to the media until about 14:00 GMT.
A spokesman for the police said there "were good reasons" for withholding the information.
No evidence of deliberate damage to the wolf enclosure has been found, police added.
Officers have received a number of complaints about the shooting of three of the wolves.
Other people supported the decision to shoot them saying it was "necessary" for public safety.
The police issued a statement on Twitter saying it was Colchester Zoo's own staff who shot the wolves.
The third and final wolf to be shot, which had been hiding in undergrowth, was killed at about 16:00.
A spokeswoman for the zoo, from which a red river hog escaped in the summer, said it would not be commenting further on the case "at the current time."
An investigation into how the animals escaped is under way.