Claim bid roads boss Rodney Bass rejects resignation call
11 November 2013

From the section

Essex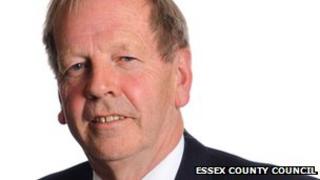 A roads boss who claimed for car damage against his own council has dismissed resignation calls against him as "fatuous and ridiculous".
A defect on one of the county's roads caused damages to Rodney Bass's car estimated at between £250 and £300.
Mr Bass, the councillor in charge of highways at Essex County Council, lodged a claim but was turned down.
An Essex driving group said the claim was "improper" but Mr Bass said he had the same rights as others to claim.
Mr Bass, who said the damage to his car happened three years ago, was chairman of the council at the time.
He had previously been the cabinet member for roads between 2003 and 2007 before resuming the role earlier this year.
'A virtue'
The Colchester and District Association of Driving Instructors said it was "amazed" the claim was ever lodged.
Mark Cole, spokesman for the association, said members felt it was "improper for any councillor to make a claim against a department that he works for".
"That Mr Bass has done so is an affront to the travelling public," he added.
"Given the state of the roads, Mr Bass's refusal to engage and his sheer arrogance in claiming for something he has failed to address, we call on him to resign."
But Mr Bass said: "I, like everyone else, have the right to make a claim but the claim was not accepted by the county council's claims handlers.
"I decided not to proceed against the county council by a civil claim.
"It proves that councillors do not get favourable treatment and also demonstrates that politicians do not interfere in the claims process. That is a virtue.
"The association's comments as reported to me are, unless taken out of context, therefore completely fatuous and ridiculous."