Chelmsford City Council in 'short long stay' car park sign blip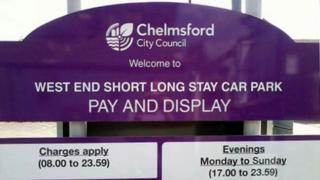 A sign describing a council-run car park as "short long stay" has been criticised for being "very confusing".
The sign was put up by the Conservative-controlled Chelmsford City Council at its 70-space West End short stay car park.
The council admitted the sign was a "misprint" and would be changed next year.
Christine Rycroft, a member of the council's highways committee, said it could cause problems.
The Liberal Democrat council member said: "It is very confusing. I would have thought if somebody is looking for a long stay car park they could park here and find themselves fined.
"The council will have to use discretion in such circumstances."
A council spokeswoman said it was "aware" of the issue.