Colchester Council litter-picking offer for unemployed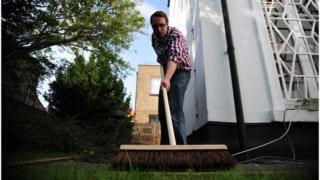 A council planning to get unemployed people to do litter-picking has been accused of trying to get free labour.
Colchester Borough Council's project comes as Chancellor George Osborne announced tougher rules for those receiving employment benefits.
One job seeker, Matthew, said the scheme was tantamount to "free labour" and could take away paid jobs.
But the council said the voluntary scheme - which so far has one volunteer - would give people "crucial skills".
'Good stead'
Martin Hunt, the council's portfolio holder for street and waste services, said the council was "happy" to offer help to those seeking work.
"This is a voluntary scheme and those interested will be able to gain crucial skills and work experience, helping stand them in good stead to secure future employment."
Iain Wickes, of the Essex branch of the Federation of Small Businesses, said the project would be good for getting people back into the working hours habit.
But he added: "It is pretty low-skilled work and there are guys out there doing it (as a job). It is an essential service.
"I wonder whether this is the best way (of getting people back into work).
"Perhaps it ought to be broadened out to offer other opportunities and not just this one."
The council scheme has been set up by Jobcentre Plus and Seetec.