Michael Barrymore interested in 'dark' TV role return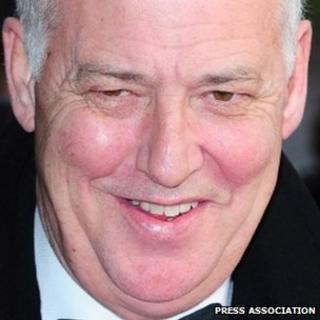 Former TV host Michael Barrymore says he has not ruled out a return to show business - and claims he has been approached about a television series.
The 61-year-old former star of Strike it Lucky was fined for cocaine possession in 2011.
Mr Barrymore, of west Essex, said he received a call last Tuesday about an acting role in a television series.
The part, he said, was a "dark" role. "I thought actually I fancy doing that," he said.
Mr Barrymore was speaking about his prospects following the launch of his new clothing range Made by Dave.
He ruled out a return to comedy and presenting, saying the genres had moved on since he was last involved.
Mr Barrymore said previous negative media attention was a "consideration" in making decisions about his current ventures.
"But you can't approach anything and think the past is going to come up and slap you in the face, because (if you did) you would never do anything," he said.
"I've grown a lot from having that amount of negativity, and I'm still here and the News of the World isn't."
Mr Barrymore has largely remained off television screens since the death of 31-year-old Stuart Lubbock at his former home in Roydon, Essex, in 2001.
He appeared on Celebrity Big Brother in 2006, finishing as eventual runner-up to fellow Essex resident Chantelle Houghton.