Essex University lecturer Iain Keenan in 'swim commute'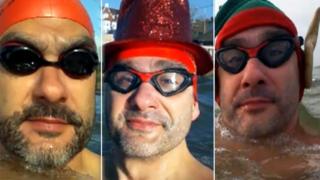 To mark his 40th birthday, university lecturer Iain Keenan decided to carry out 40 open water swims - including a water commute to work.
The 39-year-old father-of-two, of Westcliff-on-Sea, started his swimming project purely for pleasure.
But as people learned of his swims during the winter months, offers of sponsorship were made.
He is now carrying out the swims on behalf of the cleft palate charity Smile Train.
The challenge he set himself was a total of 40 swims in a year - with at least two in each month of the year.
All had to be completed without a wetsuit.
Water temperatures have varied between 35F and 68F (2C and 20C).
On Friday - when he finally turns 40 - he will carry out the final swim of his year-long project.
His 39th swim involved packing his work clothes in a dry bag and swimming the 1.4 mile (2.3km) stretch of sea between Chalkwell and Southend Pier, near his place of work.
The commute by water, he said, took about twice as long as his usual journey, but was far more enjoyable.
"And I had that Daniel Craig moment in the James Bond film (Casino Royale) when I came out of the water," said Mr Keenan, a nursing lecturer at the University of Essex's Southend campus. "I put on my work clothes and went to work.
"Sadly, nobody was there to see me being James Bond."